Efferdent® Coffee & Tea Antibacterial Dental Appliance Cleanser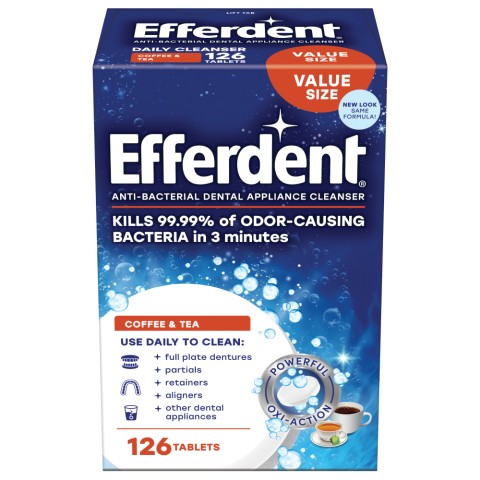 Efferdent® Coffee & Tea Antibacterial Dental Appliance Cleanser
Efferdent® Coffee & Tea Dental Appliance Cleanser removes even the most stubborn stains with our most whitening activators. Efferdent® Coffee & Tea will ensure your dentures naturally shine bright.
Available in 126ct
Drop one tablet into very warm (not hot) water (enough water to cover dental appliance)


 

Place dental appliance into effervescing solution, color will change as it cleans


 

After 3 minutes, remove and rinse appliance thoroughly. Dental appliance is clean, odor free and ready to be used

KEEP OUT OF REACH OF CHILDREN.

DO NOT PUT TABLETS OR SOLUTION DIRECTLY IN MOUTH.

DO NOT SWALLOW OR GARGLE WITH THIS PRODUCT.

THIS PRODUCT CONTAINS PERSULFATES, WHICH MAY CAUSE ALLERGIC REACTIONS. IN CASE OF ACCIDENTAL INGESTION, CONTACT A POISON CONTROL CENTER (1-800-222-1222) IMMEDIATELY.